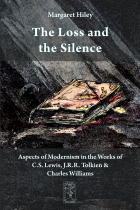 (to the main page on The Loss and the Silence)
The following booknote was published in Seven 32, 2014 and is reproduced here with kind permission
VII: An Anglo-American Literary Review (ISSN: 0271-3012) is a publication of The Marion E. Wade Center. The Wade Center is a department of Wheaton College, Wheaton, Illinois.
Link to the website of VII.

Margaret Hiley, The Loss and the Silence: Aspects of Modernism in the Works of C.S. Lewis, J.R.R. Tolkien, and Charles Williams. (Switzerland: Walking Tree Publishers, 2011), $24.30 (paperback).
The "Inklings," of whom Hiley focuses on Charles Williams, J.R.R. Tolkien, and C.S. Lewis, have been criticized for isolating themselves, as fantasy writers, from the concerns of their modern context. In this book, by comparing Williams, Tolkien, and Lewis to their literary contemporaries, such as David Jones, W.B. Yeats, and James Joyce, Hiley attempts to establish a previously unacknowledged connection between modernism and fantasy. While Hiley recognizes that fantasy and modernism are distinct, she argues that the Inklings, like the modernists, were not divorced from the issues of their historical milieu, but were in fact responding to them.

Read other reviews of The Loss and the Silence
Read reviews of other Walking Tree Publishers books