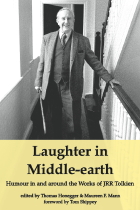 (to the main page on Laughter in Middle-earth: Humour in and around the Works of JRR Tolkien)
The following review appeared on Goodreads.
Reviewed by Dr. Andrew Higgins

A brilliant collection of papers on nonsense, satire, joy and humor in Tolkien's works. The intro by Tom Shippey is a great curtain raiser to the volume. So cool to read some excellent papers by fellow Signum University/Mythgard Institute Colleagues. The final paper by Jared Lobdell is full of many ideas on Tolkien, The Inklings and humor which left me wanting to explore more. Another excellent volume from Walking Tree Press. Highly recommend.
The original review can be found here:
https://www.goodreads.com/review/
show/1911407741?book_show_action
=true&from_review_page=1

Read other reviews of Laughter in Middle-earth: Humour in and around the Works of JRR Tolkien
Read reviews of other Walking Tree Publishers books