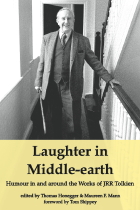 (to the main page on Laughter in Middle-earth: Humour in and around the Works of JRR Tolkien)
The following review appeared in the Laughter in Middle-earth Facebook Group, and is reproduced here with kind permission.
The Laughter in Middle-earth Facebook Group is a public group where people can discuss the Walking Tree Publishers book "Laughter in Middle-earth". Contributors to the book are members who can respond to questions about their articles. English is the preferred language over any of the Elvish dialects.
The group is located here: https://www.facebook.com/groups/324159177970965/
Reviewed by Ryder W. Miller

Laughter in Middle-Earth contains a manageable plethora of useful information and insights to understand Tolkien's humorous impulse and those who have found fun with him. Unlike the television version of Game of Thrones, from Tolkien and Peter Jackson one gets a clear sense of what is at stake in Middle Earth and what the characters are fighting for. Middle Earth has wonder, magic and beauty, even if there is no prostitution or sex. It also has Mirth, not to mention good food sometimes, which helps characters know what they stand to lose from a Dark Lord. Tolkien's adventures are for the warrior, and defender of beauty, but also the defender of good cheer and fun. His fellow Inkling C.S. Lewis pointed out that it was God, in this circumstance through Tolkien, not the Devil, who could give us Joy.

As shown, Tolkien had a contagious sense of humor, and liked to write about laughter. Tom Shippey in the Foreword relays that contributor Alastair Whyte calculates that there are over 300 mentions of humor in The Tolkien Cannon: The Hobbit, The Lord of the Rings, and The Silmarillion. Shippey writes: "Like Gandalf, he [JRR Tolkien] had a spring of merriment inside him, which he frequently released, and which deserves to be fully appreciated: as it is in this volume." (page 5)

One will get a fuller appreciation of Tolkien and those who reacted to him from this volume which has some very insightful papers. From co-editor Maureen F. Mann one learns that the Tolkiens "developed a unique understanding about the significance of beauty and pleasure in language..." It was not always about what the language meant, but also what it sounded like. This is especially the case with the invented language names Tolkien used. Alastair Whyte (thanks also for counting) writes that humor is a signifier for adventure writer Tolkien, and is used in a number of ways, including as a force of change. Jennifer Raimundo explores the power of Mirth in a wonderful, enchanting, and stylish essay which could have mentioned that Mirth also acts as a motivator for heroes giving those inspired a reason to battle to keep it. Those who did not fully understand Farmer Giles of Ham are likely to benefit from Lukasz Neubauer's contribution on "...Tolkien's Onomastic Humor..." which explains the linguistic humor included. Laura Lee Smith provides fascinating insights into the power dynamics that play a role in the discourse between Tolkien's characters; one can almost hear actor Martin Freeman's voice (as Bilbo in the movies) in some of this.

There are also some interesting papers about those who reacted to the Tolkiens with their own humor. Those who find the parodies of Tolkien or even just the the idea of parodies about Tolkien repellant and not worth their time (these are no less stories about bravery, sacrifice, and heroism, and for some sacrosanct with them having replaced The Bible for some), can get up to speed from the included articles from Evelyn Koch and Sherrylyn Branchaw. With so much new from The Tolkiens there might not be time or energy for such parodies, even if there might be some interesting textual and intellectual dynamics in them. Davide Martini provides some humorous art from around the world, much of which referring to "The Riddle Game" between Bilbo and Gollum, reminding that this whole adventure started as a children's book which toned down some of the more ghastly elements of this tale. The new movies with images, depictions, and action, The Chronicles of Narnia included in this, are more likely to give the consumer nightmares than the books they are based upon. Some very interesting depictions of Bilbo and Gollum in this, some that might make you laugh about how they were depicted in a different age and in other countries. A personable and brilliant Jared Lobdell finishes out the book with a very intellectual and for some sometimes a comical take on Tolkien's oeuvre and that of the other Inklings (including some that are not known very well on American shores at least).

Humor though, as shown, is not always from the good side. The Orcs enjoy laughing at the pain of others for example. Humor can hurt, even when it true. It can be a weapon. It also can be a force for good, even a medicine. There are though a few harsh judgements and conclusions from those assembled about the use of it with some folks sometimes being mean. In Middle Earth Mirth was a medicine of sorts and not only the children inside, also the adults, continue to laugh. In this day and age we might need humor more than ever with Comedians being a political 6th Estate in a country that might have lost some of the necessary political checks and balances with the recent Republican electoral landslide. The Press has long been the 4th Estate. The government hackers who revealed private government documents to the public are the 5th Estate. We might also need a 6th for sometime. This book will give one a more sophisticated understanding of what is involved in comical pursuits. Including the people who don't vote: The Majority is not happy with what has transpired this November and humor might be a way to better understand what will transpire now. We might, like Middle Earth, need the medicine and Mirth.

This is one of many worthwhile books from, thank you, Walking Tree Publishers which has a focussed scholarly Tolkien analysis or more than one for probably every type of Tolkien fan, critic or scholar. If you don<'t find one from them to your interest you might want to send them a query letter with the idea.tter with the idea.

Read other reviews of Laughter in Middle-earth: Humour in and around the Works of JRR Tolkien
Read reviews of other Walking Tree Publishers books