(to the main page on Beowulf and the Dragon)
The following review appeared on Alexa Chipman's blog (July 22nd, 2010) and is reproduced here with kind permission.
You can visit Alexa Chipman's blog here, or view the original of this review here.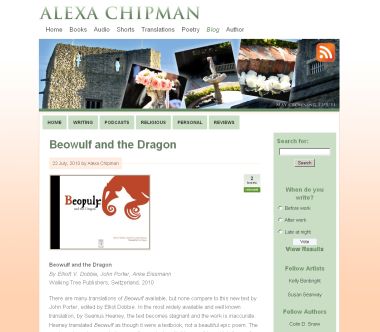 Beowulf and the Dragon
22 July, 2010 by Alexa Chipman



Beowulf and the Dragon
By Elliott V. Dobbie, John Porter, Anke Eissmann
Walking Tree Publishers, Switzerland, 2010
There are many translations of Beowulf available, but none compare to this new text by John Porter, edited by Elliot Dobbie. In the most widely available and well known translation, by Seamus Heaney, the text becomes stagnant and the work is inaccurate. Heaney translated Beowulf as though it were a textbook, not a beautiful epic poem. The music and passion were lost — as well as an indescribable something which those of us who read the original can sense. For example:

"Then, to his delight, the day waned and he could wait no longer behind the wall, but hurtled forth in a fiery blaze," (Heaney 157).

"The snake rejoiced in daylight's waning; would no longer wait, walled-up, but flew in flame, impelled by fire," (Porter 7).

Say them both aloud and you will see the difference— Porter's words roll off the tongue and you can almost hear them inside a mead-hall. There are other, more potent, examples, but I shall let you discover them for yourself. I have never thought a translation of Beowulf did full justice to the original until I read Porter— a daunting task masterfully completed.
For those Tolkien fans, the name Anke Eissmann should have a familiar ring. She is one of the foremost illustrators of Lord of the Rings and the Silmarillion. The illustrations in Beowulf and the Dragon are magnificent— dark, brooding and quietly powerful. It is easy for dragons to be overdone or become cheesy— her dragons never are.
To read all about her process of creating the illustrations, please stop by her web site here.
In order to purchase this book, you will need to contact: Walking Tree
If you are in Holland or Switzerland, the book is readily available.
If in the US, UK or Canada, you'll need to fill out the contact form.
It might seem on the pricey side, but remember that this is a high quality coffee table style art book that is simply gorgeous. Worth every penny or pence.
Works Cited
Anke Eissmann, Elliott V. Dobbie, John Porter. Beowulf and the Dragon. Switzerland: Walking Tree, 2010.
Heaney, Seamus. Beowulf: A New Verse Translation. Bilingual Edition. London: W.W. Norton, 2000.

You can read Alexa Chipman's blog here.
Beowulf and the Dragon, Walking Tree Publishers 2009, ISBN 978-3-905703-17-7

Read reviews of other Walking Tree Publishers books